Amarachi is an Lemur created by User:MinecraftFan11onScratch.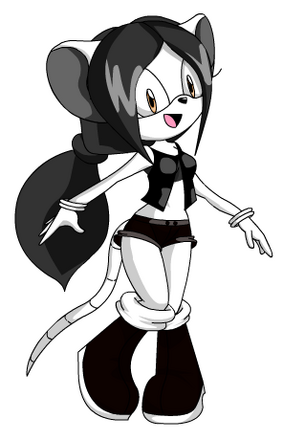 Basic Info
Amarachi is Fifteen Years old.She is an Lemur that wear Black Clothes and have White Skin.
Personality
Amarachi is Funny and Friendly to Everyone,and Know very Well the Igbo language.She sometimes have an Kinda Personality of King Julien of Madagascar Movie.
Appearence
Amarachi have White Skin,Orange Eyes (Like the Lemurs of Real Life),Black Hair,Black Jacket that hide an Black Bra,White Gloves,Black Skirts and Black Boots.
Non-Romantic Relationships
Sofia and Amarachi was having an Good Recent friendship.But,sometimes,Amarachi and Sofia sometimes was Having Weird adventures.
Shadow the Hedgehog
Amarachi is considered only an Anoying Mobian by Shadow,but Amarachi wanna revert this Feeling of Shadow.
Even that Cythan don't have Knowed Amarachi,Amarachi trat him Like an Friend.
Romantic Relationships
None for Now.Was Having An Contest on Scratch for Solve who Will be her Boyfriend.
Powers
Amarachi have Fire and Earth Elemental Powers,but Like more of Using her Earth Powers (She fell an Like Burn in her Hand after she Use her Fire Powers).
Backstory
Amarachi lived along with Her Family until the Fourteen years.So,she Started to follow her Way in the World of Mobius.
In an Day,She started to Live in The Forests of Mobius,in an Wood House in Tree's.She started to Search for Adventures,when She meeted her Actually best Friend:Sofia the Hedgehog,being Attacked by Some Person with Black Skin.
Amarachi ended Helping Sofia put the Black Mobian to run,So,Amarachi and Sofia turned Friends.But,an Day,Amarachi discovered that The Black Mobian that Attack Amarachi is Shadow TH.
So,Every time,Amarachi try to Revert that Shadow think that Amarachi is an Anoyingness.
Theme Songs
Main Theme
Her Stage Theme
Her Boss Theme
Trivia
Her Name was the Igbo of "God's Grace"
She is Heteromantic
She dream's to Be the Queen of Lemurs of Mobius
The Inspiration of her Species comes from King Julien,from Madagascar
Amarachi is protagonising an fanfic Named Amarachi's Adventure
Gallery