Description
Cefyre is a cat-fox hybrid with 4 tails. He is a young member of the sapphire tribe. He originally had 6 tails, but 2 of them were converted to energy. Also, his name is pronounced like "sapphire." He also has a sword, and can use Chaos Control.
Powers and Abilities
Powers
Psychokinesis
DJ Psychokinesis
Duplication
Chaos Control
Abilities
Flight
Strength
Swift attacks
High jumps
Cefyre the Cat-Fox

Species
Cat-Fox Hybrid
Height
2' 8" 
Weight  
68 lbs
Full Name
Cefyre Jeffery Prower
Age
12
Relatives
Half-brother-Miles "Tails" Prower
Mother-Saradawn Lynne Prower
Father-Amadeus Prower
Step-mother-Rosemary Prower
Uncle-Merlin Prower
Friends
Shadow the Hedgehog
Silver the Hedgehog
Blaze the Cat
Enemies
Sometimes friends, sometimes enemies
Dr. Robotnik/Eggman
Sonic the Hedgehog
Knuckles the Echidna
Classic Sonic
Classic Tails
Metal Sonic
Alignment
True Neutral
Likes
Explosions
hanging out with Tails
His mom
swordfighting
salmon
couscous
swimming
video games
hanging out with his friends
writing music
making video games
Stargazing
Fishing
Broccoli with ketchup
Dislikes
Teasing
Coffee
Chemical Plants
Cities
Bright Lights
Social Studies
rollercoasters
most candies
Broccoli without ketchup
Personality
Extremely energetic
Creative
Friendly
Smart
Clever
Easily Distracted
Backstory
One starry night, specifically January 24th, Saradawn had recently gotten married to Amadeus Prower. She was just about have a baby. An hour later, The baby was born. He was a cat-fox hybrid, having the body of a cat, but the tails of a fox. "What should we name him?" said Amadeus. Saradawn then responded, not really paying attention, "Amadeus, look at that beautiful sapphire on his chest! Isn't it just gorgeous?" Amadeus, impatient about naming his newborn son, asked the question again, "I said, What should we name him?" Saradawn, now actually paying attention, said "How about Cefyre Jeffery?" "Ooh! I like it!" Responded Amadeus.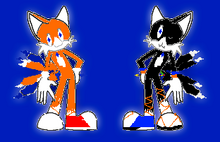 A few years later, Cefyre met his half-brother, Tails, for the first time. They immediately became best friends. Soon after, they found out that they were half brothers. Later that day, Cefyre and Tails were out exploring when they found the ancient temple of the power sapphires. "Wow!" Cefyre exclaimed, "Tails, come over here!" "What is it?" said Tails. "Hmmm........If my mind is translating that text right, that should say 'Temple of the 9 Power Sapphires.' Hm." "Should we go in?" asked Tails. "After I go grab my sword and shield," Cefyre responded.
Once he got back, they went in. When the got to the chamber of the Power Sapphires, Cefyre said, "Why are there only 8? Shouldn't there be 9?" his question was soon answered by a monk who was meditating right behind them. "To he who has the blue Power Sapphire," Cefyre and Tails turned around, "Do you wish to obtain the other 8 Power Sapphires? If so, you must undergo many trials, one of which is right in this temple. You may bring your friend wi-," Interupting the monk, Cefyre said, "Sorry to interrupt, but he's my half-brother. You were saying?" The monk started talking again, "If that is the case, then you may bring your half-brother with you, but nobody else. Would you like to begin?" "Yes," Cefyre responded. "The trial is down the staircase. You may begin," the monk said.
After the trial, and a long fight with a fake version of Infinite, The two half-brothers emerged from the trial, to find that the only Power Sapphire still there was the red one. "That looks a lot like the Phantom Ruby," said Tails. "It is," The monk said, "You may take it. Then, you must search the land for the other 7 Power Sapphires, and pass their trials to obtain them. Goodbye," he finished, just before he faded away. "You may want to stand back, Tails," Cefyre said, right before he activated the phantom ruby. It worked, giving him the confirmation that it was real, so he deactivated it, and then returned home.
~~TO BE CONTINUED~~