Chess the Cat is a brown cat and a close friend of Shadow the Hedgehog.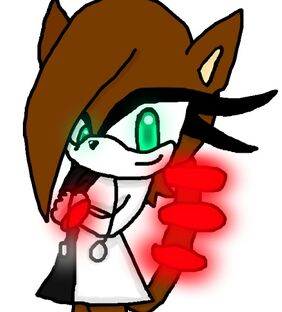 History
Chess the Cat was a normal cat. But one day, there was an explosion of radiation - This gave her these "Glowy" Powers. She uses them to fight. This radiation incident is also the cause of her eyes glowing when she's happy. [More to come soon]
Personality
Chess' personality is pretty simple, she's very friendly and cheerful. She also shows to have a bashful and childish side at times, often leading to her being called "cute". (She's like a slightly less childish version of Tech the Bat? xD)
Powers
'Glow' powers; an aqua-green aura that comes out of her hands and has similar effects to moves like Chaos Spear and Chaos Blast
Abilities
Since the explosion changed a lot of her body, she is now immune to explosions.
Weaknesses
Sometimes she acts a little bit clumsy. Sometimes she may also accidentily glow so much that she blinds another hero temporarily.
MissAquaAnime's Recolor Video
I thought this was so good I just HAD to put it on her page.
Fans
Haters
Gallery