Helena Scratch is an DJ Hedgehog created by User:MinecraftFan11onScratch.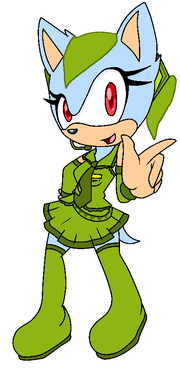 Name: Helena Scratch Glow
Age: 13
Gender: Female
Species: Hedgehog
Aliigment: Good (75% Chaotic Good,25% Lawful Good)
Main Power: Music Power
Alternative Power's: Star Power,Psychic Thunder's (Thunder's of Psychic Element),Electricity Power's,Psychic Power's,See the Future
Skin Color:Peach
Fur Color:Blue
Clothing & Hair Color:Green
Eye Color:Red
Personality:Love Music,Is Cool for Her Fan's and Friend's,Doens't is a Big Fan of Non-High-Tech things,Is Friendly and Generous and Love Any Challenge.
Main Theme Song:Luna Game End-Intro Theme (Video with Music: [1])
Battle Theme Song:Pokémon Diamond/Pearl/Platinum OST-Battle!Champion (Video with Music: [2])
Secondary (Also,Stage) Theme Song:MLP Fighting is Magic-Vinyl Scratch Stage Theme (Video with Music: [3])
Backstory
(coming soon)
Trivia
She have some things very Like Vinyl Scratch.Two of That is that Both have Red Eye's and Both are DJ's
She Know an Bit about Japanese Language
She have an Name in Base of Name of Vinyl Scratch
Ad blocker interference detected!
Wikia is a free-to-use site that makes money from advertising. We have a modified experience for viewers using ad blockers

Wikia is not accessible if you've made further modifications. Remove the custom ad blocker rule(s) and the page will load as expected.