Kiiro is an Winged Cat that belongs to User:MinecraftFan11onScratch.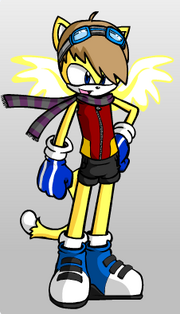 Bio
Full Name:Kiiro Taichi Hinata Sota
Normal Name:Kiiro the Cat
Origin Of Name:Japanese of Yellow
Gender:Male
Age:15
Mobian Animal Type/Species:Cat
Alligment:Good
Description:Kiiro is an Winged Cat that live in a Island in Sky in Sky's of Mobius.He protect his Birthplace of Any Evil.So,if he Discover that someone is in a Adventure in his Island,he Possibly will help if Was Good.
Personality
Trats
Kiiro is an Calm Guy,but sometimes is Quiet and Lonely.He is Friendly in Good part of His Time and Love an Good Adventure,being Brave and Adventurous.He is Serious about protecting the Island in Sky that He Lives.He loves his Home (An Island in the Sky) and Fly around it.
Likes
His Island
His Friends
Flying
Learning Spells
Groups of Heroes
Knowing People
An Good Adventure
Being Leader
Dislikes
Bad Guy's
When Some Evil wanna end His Island
Being sayed that have Minor Importance
Forms of Defense/Ability's
Magic's
Kiiro is an Apprentice of Magic's and Spells.Most of the Spells and Magics that He Make was Elemental-Related.His Famous Spell is an Spell that Stop the Time.
Flight
Kiiro have 2 Yellow Wings in his Back.So,he Can fly.This Refer that he is an Fly Type character.
Friends
Tails the Fox
Kiiro is Friends with Tails.The two loves to Fly United.Kiiro consider Tails his Best Friend.
Jin Kim the Rabbit
Kiiro and Jin Kim knowed much Recently,so,have an Neutralyness with Each Other.But sometimes they can Consider they was Friends.
Amethyst the Hedgehog
Kiiro and Amethyst also turned Recent friends.But,Turned quick friends.
Rivals
He not have any Rivality for Now.
Enemys
Villians that wanna have Kiiro's Birthplace
Kiiro's main Enemy's is the Villians that Wanna take poss of His Birthplace (The Island on the Sky).
Enemy's of His Friends
Kiiro's also Hates the Enemy's of His Friends,but not too Much like his Main Enemy's.
Theme Song's
Gallery