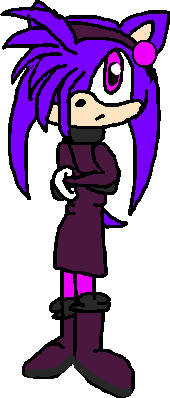 Raven is 
ShyLovesPokemon
's fc.
About her!
Raven is 11 years old and a hedgehog. Like Amy she has a crush on someone and chases them around but it's not Sonic, it's Shadow. Shadow like Sonic does not return her feelings and brushes her off as just a friend, but Raven doesn't give up! Unlike Amy she is not always trying to find her crush, and if he is not around Raven usually takes the time to relax and chat to her friends. Recently shes been chasing Shadow less and less as she is slowly getting over her crush.
She doesn't have a weapon but is very observant, and her crystals grant her some vision of the near future. (she sometimes uses this power to help in her efforts to chase Shadow)
That's it! I redesigned her so she isn't like Amy so much.
Ad blocker interference detected!
Wikia is a free-to-use site that makes money from advertising. We have a modified experience for viewers using ad blockers

Wikia is not accessible if you've made further modifications. Remove the custom ad blocker rule(s) and the page will load as expected.