Sofia is an Char that have the First appearence a Giveaway of LittLEMiSSBuTTerFLY on Scratch,and Now belongs to User:MinecraftFan11onScratch.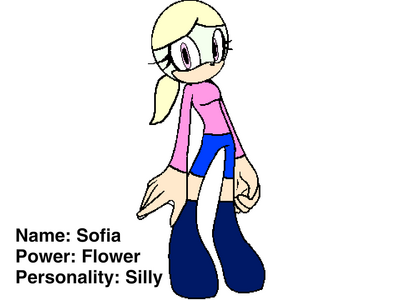 Personality
Sofia is an Silly girl,but also is Serious in Correct times.She is very Adventurous and Tomboy,and sometimes Live Mad Adventures with Her Best friend.
Appearence
Sofia have Green Fur,Yellow Hair,Pink Clothes,Blue Shorts and Dark Blue Clothes.Her eyes are Light Pink.
Non-Romantic Relationships
Amarachi and Sofia are best Friends,but live very Weird adventures.
Shadow the Hedgehog
Sofia have the Same reaction that Amarachi have for Shadow.
Romantic Relationships
None
Powers
Sofia have Flower Powers:She can Make every type of Flower,but,it was Very Weak for Battle.So,in Battle,she geraly Run for Backwards of her Buddy's.
Backstory
Sofia dreamed to walk into an Forest.But,only with Her 12 Years (Her Actually years),she Did have the Permission of her Father for walk in a Forest.
Sofia,in an Forest,ended Meeting Shadow TH,that attacked Sofia.But sofia Puted Shadow for Run with Amarachi help.
Actually,Sofia and Amarachi was Living much Adventures.
Theme Songs
Main Theme
Her Stage Theme
Her Boss Theme
Trivia
Her stage was an Animated Flower Place
She was an Very Weak Boss,and,Portant,easy for Defeat
Gallery
Ad blocker interference detected!
Wikia is a free-to-use site that makes money from advertising. We have a modified experience for viewers using ad blockers

Wikia is not accessible if you've made further modifications. Remove the custom ad blocker rule(s) and the page will load as expected.