Zap the Hedgehog is a character created by Shamoon. He is a hedgehog with electricity powers.
Appearance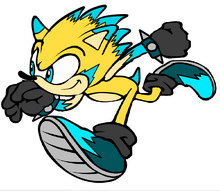 Zap has yellow fur with spiky squills and cyan tips on them. Zap is dead.
Powers
He can run somewhat fast and he has electricity powers.
Death
In a video uploaded to YouTube, Zap read a prepared statement criticizing the Mobotropolis, the recent airstrikes in Mobistan, and his brother who serves in the Freedom Fighter Air Force. Johnny the Jihadist, wearing a mask, also read a prepared statement in which he criticized SEGA and Sonic the Hedgehog and made demands to make a Dreamcast 2 or the fan characters will all die. The masked Jihadist then beheaded Zap off-camera, after which he threatened to behead Holocaust the hedgehoe if Johnny's demands were not met. The GUN and Mobotropolis National Security Council confirmed that the video, which included footage of Zap's beheaded corpse, was genuine.